This is a sponsored post written by me on behalf of Stride Rite. All opinions are 100% mine.
Amazing news for us mamas that may not live near a Stride Rite, but are obsessed with their shoes for our kiddos! Stride Rite has now launched a line of toddler shoes called Surprize by Stride Rite, available exclusively at Target stores nationwide. This is the only shoe I buy for my little man, but I've always had to purchase online… until now. In fact, the exact shoe that I was trying to get for him recently was sold out everywhere online, so when I saw it pop up at my local Target store, I grabbed it immediately!
I love to get John neutral shoes so they go with everything, but because he's a kid, they need a little pop of color. I loved the Deacon sneaker with a bright orange ankle and yellow laces! The laces add interest, but the actual velcro closure is perfect so that he can take them on and off all by himself. He's VERY independent these days!!!
Beyond the obvious cuteness, Stride Rite is always the most wearable shoe for John, where style meets substance and comfort. When I tried other shoes, he would come home with deep impressions all over his foot and I wondered how he got through his day with shoes that didn't fit well. They also hold up perfectly. The shoes never wear out before he grows out of them, which is at a rapid pace these days!
We took his new shoes to the park for a test drive and he was jumping, climbing, and running with no trouble. Out of about 100 blurry pics of a toddler on the move, I found about 5 to share lol. There is no slowing this 2-year-old down! He's also learned to smile for a pic, which melts my heart!
Be sure to check out Surprize for girls and Surprize for boys, available exclusively at your local Target and online.
Surprize is guaranteed to provide the following:
Comfort – These shoes have a generous fit and all memory foam footbeds, ensuring great comfort for your kids
Fit – The shoes have very flexible outsoles allowing for an agile, natural step and growth
Durability – The rubber toes ensure durability
What do you think of the new line of Stride Rite, available exclusively at Target? Are you as excited as I am to purchase this brand locally?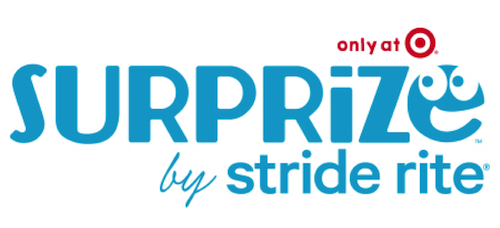 Your Thoughts?